Services Provided:
- HubSpot CMS Development
- Shopify Development
- HubSpot / Shopify Integration
The Challenge
When Vishnu Potini took over the family business, Hale Cosmeceuticals, he wanted to modernize the brand—starting with the website. As he was taking customer orders over the phone, Vishnu envisioned an ecommerce website focused on user experience first.
The Solution
Vishnu, who was looking for a powerful CRM, turned to HubSpot. So when he sought to rebuild the Hale Cosmeceuticals website, he decided to keep everything on one platform and use HubSpot CMS. He looked for developers who were experts at HubSpot CMS, which led him to HubBase.
HubBase followed their robust engineering process by first converting Vishnu's requests into technical specifications. With the details and the technical scope of the project in place, HubBase started to build the specifications for the website and ecommerce store. The HubBase team used Liquid, HubL, Javascript, and NodeJS to build cutting-edge features. Microservices allowed communication between Shopify and HubSpot. HubBase's extensive knowledge building with HubSpot CMS and Shopify made it possible to give Hale Cosmeceuticals exactly what they envisioned.
The Result
A modern, easy-to-manage website built in HubSpot CMS that is seamlessly integrated with Shopify to provide website visitors with an intuitive online shopping experience.
In just four months after the website lunch, around 40%–50% of Hale Cosmeceuticals' customers were placing orders directly on the website.
HubBase built the user experience of the website and ecommerce store with conversion in mind. With the use of consistent styles, the navigation between the website and the ecommerce store is seamless. Users can easily spot and interact with the calls to action. The web pages load faster, which keeps the users engaged, thus helping to decrease the bounce rate. HubBase ensured the technology stack was lightweight and flexible by using Liquid, HubL, Javascript, HTML5, and CSS3. HubBase delivered a robust, easy-to-use, lightning-fast, and conversion-optimized website and ecommerce store.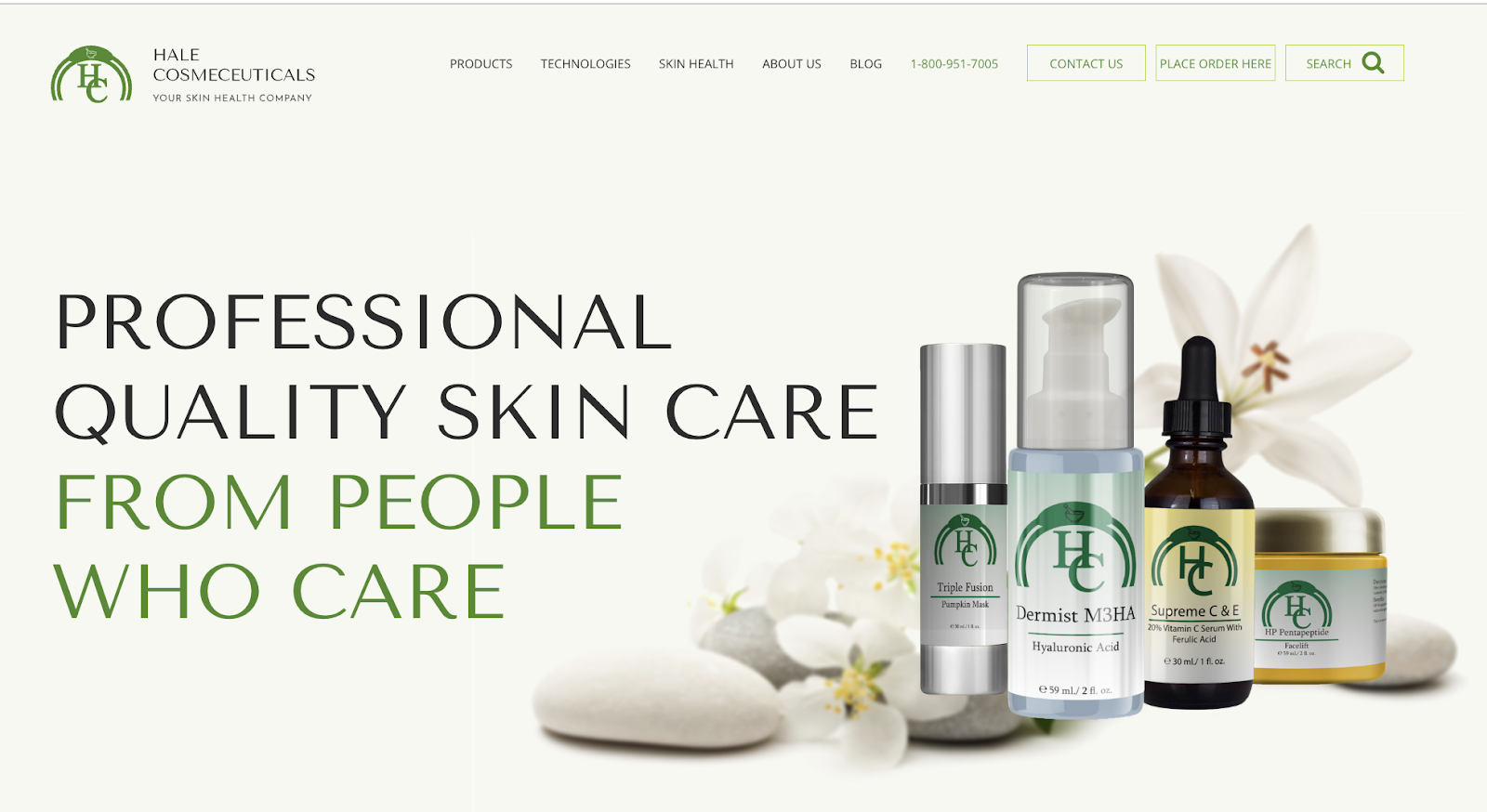 About Hale Cosmeceuticals
More than three decades ago, Vishnu's father, a formulation chemist, launched Hale Cosmeceuticals. The business was a truly family-operated venture and continues to be. Eventually, Hale Cosmeceuticals grew and its products are now available domestically and internationally to major companies. The Illinois-based company is on the cutting edge of the skin care industry, and Vishnu set out to push the rest of the company forward. He particularly focused on their website — one of the best ways to make a memorable first impression on potential customers.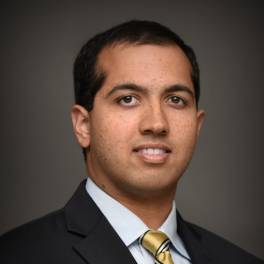 Vishnu Potini,
President of HNC Products, Inc.
Vishnu Potini studied biology at Northwestern University, and after attending medical school at Emory University, Vishnu went into orthopedics. Later, in 2019, he took over the family business and became the President of Hale Cosmeceuticals. In 2020, he went back to school to get his MBA at Kellogg School of Management to help him transition from being a surgeon to running a business.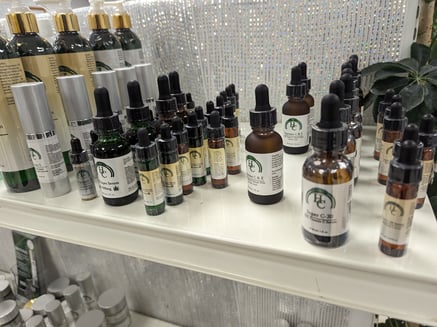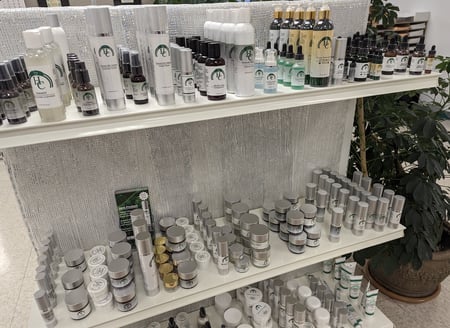 How It Started
Through trade shows and word-of-mouth referrals, Hale Cosmeceuticals has grown and built a dedicated customer base in the last three decades. In the beginning, their website wasn't essential to running the business. But that changed when COVID-19 started.
Wow, we are so incredibly grateful to have found HubBase to do our website design and development! We admittedly were very nervous to abandon our old website and do a total redesign and rebuild of our entire website UI/UX.
There were no trade shows," Vishnu says. "That's when we realized that people, even our existing customers, were turning to the web a lot more. We needed to have a professional, customer-facing website that could accurately represent our brand.
Before their website redesign and ecommerce capabilities, Hale Cosmeceuticals took orders on the phone—a method that could make for a more personalized experience but could also lead to a loss of sales. "If we're not available to pick up the phone after hours, we are potentially losing out on sales," Vishnu adds. "We wanted to be able to provide wholesalers an ecommerce platform so that after they finish the day with their clients, they can log on and make their purchases—even if it's on a weekend or a holiday. We knew we needed to adapt to the times."
Vishnu tasked HubBase with bringing Hale Cosmeceuticals' website from the past to the present-day—first through a website redesign and later by enabling ecommerce through Shopify. In just a few short months since launching its online store, the company has already seen the benefits of having a powerful online presence.
"We only went live with ecommerce about four months ago," Vishnu says. "All our customers are used to ordering by phone and email, so we never thought we'd see 100% of orders going through our website, but in that short amount of time, we have seen probably close to 40–50% of people putting in orders online."
HubBase has given Hale Cosmeceuticals another way to connect with their existing and prospective customers, as well as providing the support they needed as the business entered a new chapter.
A Vision Turned Reality
When Vishnu saw the initial designs for the homepage, he excitedly showed the rest of his team. "I was like, 'Wow. We're actually going to have a professional website,''' Vishnu says. "I printed out the screenshot!"
On top of a sleek website,Vishnu wanted the new version of the website to have a robust product filtering capability.
"There's so much they consider: ingredients, skin type, the type of product consistency, and more," he says. "We have 45–50 products and six or seven different categories that you can filter by, and to do that in HubSpot CMS was a little bit of a challenge. We went back and forth on the best way to do this. We kept thinking about how it would look for the customer; they had to be able to not just choose one filter but filter across many different categories so that they could find the products they needed easily."
This was an area where Vishnu and his team had a very clear vision and knew they could not compromise, and HubBase helped make it a reality.
Regular and Timely Communication
Redesigning a website requires regular communication so that developers can build exactly what the client wants. For Vishnu, HubBase's communication style—a mix of Slack and Trello.com, proven real-time communication and task management platforms—stood out.
"We had regular meetings set up to communicate updates," he says. "We had very specific things we needed to get done, so being able to speak to them on a regular basis helped all of us stay on the same page."
Vishnu also appreciated HubBase's ability to get back to him when unexpected needs arose. "Issues come up. Bugs happen," he says. "They're able to fix them by taking the time to understand the problems. We would send them a message, and they would quickly get someone on it to look at it and figure it out. That provided peace of mind. They're very good about getting back to us—even if it's a question about a project completed six months ago."
An Easy-to-Manage Website
One big requirement for Vishnu was the ability to update the Hale Cosmeceuticals website with ease when necessary. "We wanted to build in a way where we could make minor updates," he says. "We can update monthly specials ourselves. We can add new products ourselves. We wanted to be able to update these minor things ourselves, and HubBase built it in a way that we could handle the small maintenance things."
HubSpot CMS and Shopify provide powerful content management solutions. The trick is that the developer builds as per the best practices of these platforms to ensure the end product is easier to manage and flexible. HubBase has years of experience working with both HubSpot and Shopify, so they used their knowledge of best practices to build a great website and ecommerce store.
Final words?
HubBase stepped up to the challenge and, through its technical expertise, delivered a high-performing website and ecommerce store. "When I first met with HubBase, they demonstrated their expertise with HubSpot. They had a plan as to how they were going to integrate all our asks with HubSpot. This was a new thing for us, and we didn't know how to do what we needed. They have proven that when it comes to major updates or improvements, we have to come back to HubBase."